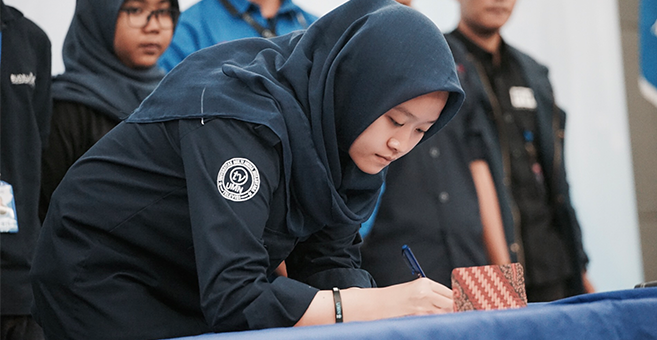 Asosiasi Televisi Kampus Indonesia Deklarasikan Demokratisasi Penyiaran
Selain seminar dan workshop, Televisionair 2017 juga menghadirkan Sharing and Disscusion bersama TV kampus yang difokuskan untuk pembentukan ATKI (Asosiasi Televisi Kampus Indonesia) di Universitas Multimedia Nusantara (UMN) pada Jumat (17/3).
Acara Sharing and Disccusion ini menghadirkan Bowo Usodo dari JRKI (Jaringan Radio Komunitas Indonesia), Agung Sedayu dari PPMI (Persatuan Pers Mahasiswa Indonesia), dan Eva dari AJI (Aliansi Jurnalis Independen). Acara ini terbagi ke dalam dua sesi. Sesi pertama diadakan sharing dari para pembicara mengenai suka duka mengelola pers komunitas, perwakilan TV kampus pun melakukan tanya jawab dengan pembicara mengenai kiat- kiat mengatasi masalah yang muncul dalam mengelola komunitas tersebut. Tergerusnya konten lokal menjadi salah satu masalah yang sebagian besar TV kampus alami.
Di sesi kedua, 12 TV kampus sepakat membahas pembentukan ATKI. Forum diskusi yang terbentuk pun menghasilkan visi- misi ATKI sendiri serta isi deklarasi yang ditandatangani oleh 12 perwakilan TV kampus. Berikut adalah 12 TV kampus yang terdapat dalam ATKI: UMN TV, DNK TV, FIVE TV, Bandung OKE TV, TV UAD, Budiluhur TV, SIGMA TV, UNTIRTA TV, MMTC TV, UPN Televisi, Suka TV, dan UNHAS TV.
Dengan berdirinya dan dideklarasikannya ATKI diharapkan, lembaga ini dapat menjadi wadah bagi demokratisasi penyiaran. Selain itu, berdirinya ATKI sendiri dapat menjadi media alternatif untuk menyebarkan informasi dan konten kreatif bagi masyarakat Indonesia.
by: Livia Kristianti – Universitas Multimedia Nusantara News Service
Kuliah di Jakarta untuk jurusan program studi Teknik Informatika | Sistem Informasi | Sistem Komputer | Akuntansi|Manajemen|Ilmu Komunikasi | Desain Komunikasi Visual, di Universitas Multimedia Nusantara. www.umn.ac.id